Education policy is the topic of much debate in the United States. In recent years, many new educational policies have come to the forefront and gained traction.
In general, the U.S. Department of Education oversees the decisions that affect students, teachers and communities. The agency supports the executive branch in carrying out education policies and implementing laws passed by Congress. It also manages most federal assistance programs. The department's purposes include strengthening equal education access and improving the quality of education. Since its creation in 1979, education policy has evolved, and education policy issues have taken a front row seat in political debates.
The Department of Education isn't the only entity focusing on educational policy. States also play a huge role in promoting progress in education policy, often leading the charge with major reforms.
Education laws in America are evolving rapidly. Here are a few current education policies being debated, enacted and expanded around the nation.
1. Tuition-Free College
Policies promoting free college, forgiving college debt or ensuring everyone can access higher education regardless of their income are fiercely debated. The idea of tuition-free college is not out of the realm of possibility. In fact, it's already happening. According to U.S. News and World Report, as of September 2018, 17 states offered some form of tuition-free college.
One of the most well-known examples is Tennessee Promise, a scholarship and mentoring program that aims to increase the number of students who can attend college in the state. It covers tuition and mandatory fees not covered by the Pell Grant or other programs. This offering can be used at any of Tennessee's community colleges or colleges of applied technology, as well as others.
Most of the state-based programs in place provide money for tuition that is not covered by state and federal assistance programs. Many also have stipulations about how long a student must stay and work in the state they received their education.
As of March 2019, lawmakers in 23 states are considering legislation that would expand current programs and make college tuition-free for some students. Many Democratic candidates for president, such as Senators Bernie Sanders and Elizabeth Warren, have introduced plans for making college free for low- or middle-income families and erasing existing student loan debt for students who have already graduated.
Morley Winograd, the president and CEO of Campaign for Free College Tuition, said, "Five years from now, we would expect that a majority of the states in the country would have free college tuition, and that would be a tipping point."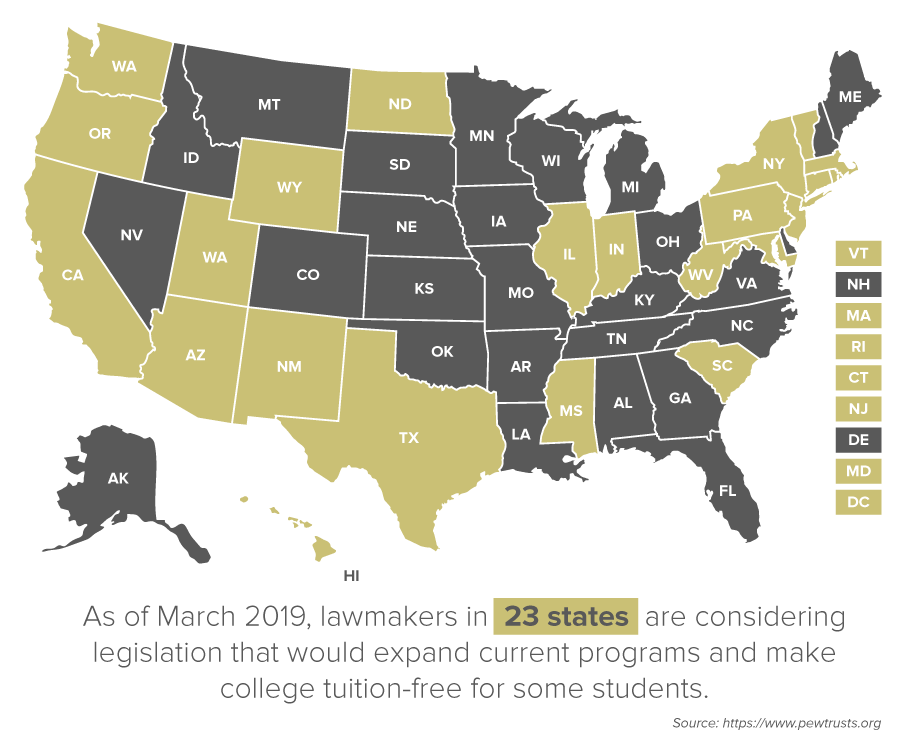 2. Apprenticeship Programs
Apprenticeship programs offer a great alternative to four-year college options, and some educational policies seek to expand their reach. Apprenticeships tie education directly to a post-graduation job. In general, apprenticeship programs align experts in a trade with educational institutions to educate students.
According to the National Conference of State Legislatures (NCSL), since 2016, 30 states have passed 60 new apprenticeship laws. Twenty-nine apprenticeship laws were passed in 2018 alone. The NCSL pointed out that most legislation surrounding apprenticeship has one of five goals:
Establishing new programs or new requirements.
Authorizing funds for programs.
Increasing awareness about apprenticeship programs.
Ensuring apprenticeship credits fulfill requirements and can transfer.
Expanding apprenticeship programs to prevent discrimination and ensure diversity.
The U.S. Department of Labor (DOL) stated successful high school apprenticeships depend on strong partnerships between high schools, colleges and businesses as well as programs properly aligned with workforce needs. Focus should also be on quality programs that ensure student success.
Apprenticeship programs are not just for the benefit of students. The DOL stated, "First and foremost, apprenticeship helps businesses develop highly-skilled employees. Apprenticeship programs also reduce turnover rates, increase productivity and lower the cost of recruitment."
3. Early Childhood Education
Access to early childhood education programs, including preschool and pre-K, is proven to have a tremendous impact on students' lives. Like college education, it is also often expensive. Many educational policies seek to expand access to early childhood education, ensuring everyone gets the start they need regardless of where they live or their income level.
According to the Center for American Progress, 51% of people in the U.S. live in a child care desert, meaning that there are no child care offerings or there are too few options for all children to have access to licensed providers. This leaves many students without good learning opportunities at a vital time in their lives. Still, even those with proximity to licensed providers may not be able to easily afford it.
This leads to an achievement gap, a disparity in the educational performance, between students with access to high-quality education and those without. The U.S. Department of Education stated, "The years from birth through age eight are the most critical for brain development, and significant evidence from research and evaluation demonstrate that participation in high-quality early learning programs will lead to both short- and long-term positive outcomes for all children."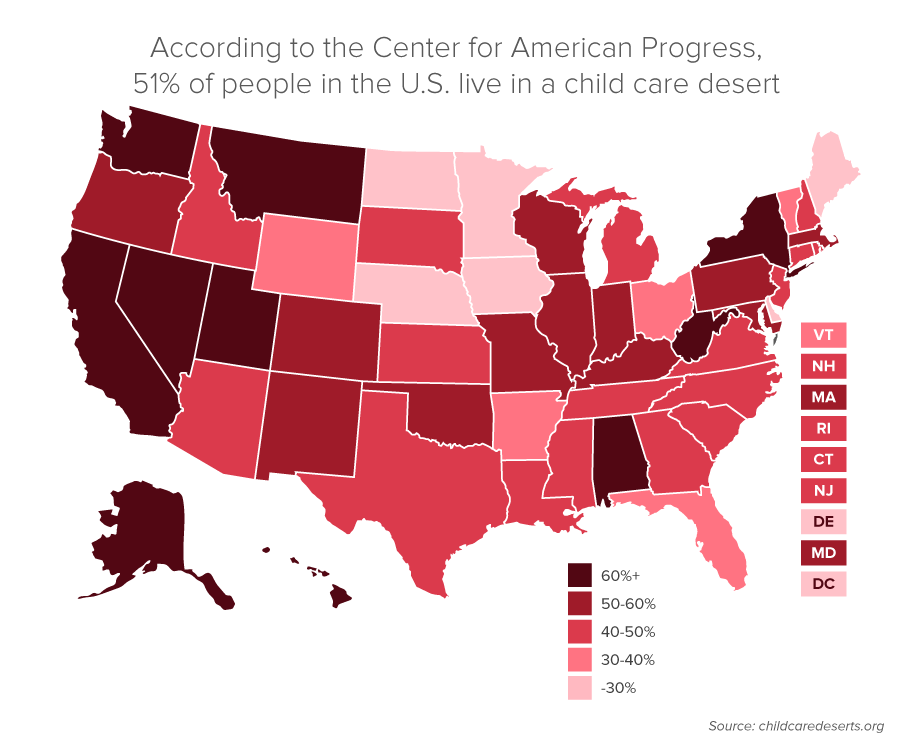 While the federal government is certainly focused on early childhood education access, state legislatures have been leading the charge when it comes to expanding investments that support early childhood development. The NCSL pointed to some areas that states are looking at to help young students and their families:
Child Care Subsidies: These subsidy programs support low-income families and provide quality early development programs to the children that might otherwise be out of reach monetarily.
School Readiness and Early Literacy: As of 2015, 42 states and Washington, D.C. invested a total of $7 billion into pre-K classes.
Data Systems: Data proves valuable when trying to reduce the achievement gap for young students and is a focus of many state legislatures.
The need for attention on early childhood education is clear to those running for office at all levels. Several 2020 presidential candidates have proposed plans that would expand access to pre-K as well. Julian Castro proposed Pre-K for USA that would expand access to full-day pre-K for every three and four year old in the country. Senator Sanders and Senator Warren have proposed similar plans.
Influence Education Policy
Are you interested in impacting evolving educational policies in America? Consider a doctorate in education online. The University of West Alabama Online offers a one-of-a-kind program that examines rural topics specifically, including the need for education policy reform in those areas.
The Ed.D. Rural Education from UWA Online helps candidates gain a deeper understanding of the challenges and issues in rural education with two distinct tracks: Teaching and Learning and Organizational Change and Leadership. This forward-thinking degree is the first of its kind and creates leaders addressing the needs of rural students and school districts.